NEET 2nd Seat Allotment List 2018: NEET 2nd Round Counselling List Result and Seat Allotment Letter Released. Candidates can download the allotment letter on entering valid roll number. Link to download the PDF and download the letter is provided below. Registration for Round 2 has started on 6th July 2018 in online mode. Deadline to register is 8th July 2018. Seat Allotment Result for Round 2 has been postponed due to compliance of Hon'ble High Court of Madras, Madurai Bench. To get the detailed information- Visit the link given below. Choice filling and locking will start from 9th July 2018. Link to register is provided below. Candidates must go through the eligibility to before registering for the Round 2. After receiving all the applications from the eligible candidates, the official authority releases the seat allotment list. Medical Council Committee (MCC) is the official authority which conducts NEET online counselling every year. Second round of NEET Seat allotment is scheduled to start from 6th July 2018. After receiving all the applications from the NEET 2018 Qualified candidates, the official authority prepares a list of seat allotment. Through this article, candidates can get the detailed information and download the NEET 2018 Second seat allotment round.
Subscribe For Latest Updates
Subscribed Successfully.
Already Subscribed.
NEET 2018 Second Seat Allotment Event Dates
To download the PDF of 2nd counselling result  – Click Here
To download the Seat Allotment Letter for 2nd round of counselling  – Click Here
ESIC Result Round 2 Released – Click Here To download the PDF
Seat Allotment Result for Round 2 Delayed – Click Here To Check the Notice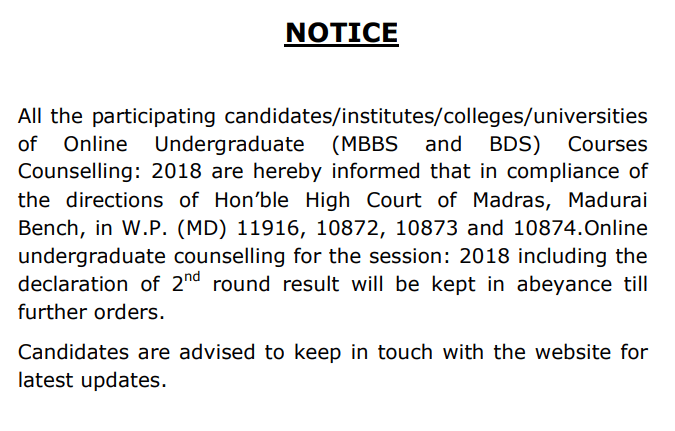 Reason for the delay of the publication of Round 2 Seat Allotment Result   – Click Here
To register for the NEET MBBS Round 2  – Click Here
The NEET 2018 qualified candidates who missed the chance of applying for counselling in the first round, they can participate in the second round. Candidates who applied but not satisfied with the seat allotted to him/her in the first round can also participate in the second round.
Date of the events for NEET 2018 second counselling round is provided in the table below.
| | | |
| --- | --- | --- |
| S. No | Events | Dates (announced) |
| 1. | First round of counselling ends on | 3rd July 2018 |
| 2. | Registration, Payment and choice filling | 6th July 2018 |
| 3. | Closing of registration, choice filling & indicative seats | 8th July 2018 (5pm) |
| 4. | Choice filling and locking | 9th July 2018 (10 to 5pm) |
| 5. | Process of seat allotment round 2 | 10th to 11th July 2018 |
| 6. | Reporting to the allotted college | 13th to 22nd July 2018 |
What after the publication of NEET 2018 Second seat allotment list?
Second round seat allotment list contains the name of the registered applicants and college allotted to them. The college for MBBS programme is allotted to a particular candidate based on NEET 2018 Score. Registered candidates must check their name in the seat allotment list. If they are satisfied with the college allotted to him/her, then they must freeze or lock the seat and report to the college within a specified time. Candidates need to report to the allotted college in between 13th July to 22nd July 2018. After second round gets over, then seat matrix is released and an online mop-up round is held.
To download the NEET 2018 Second Seat Allotment List – Click Here (link will be activated here once it gets available)
The second round of NEET 2018 Seat Allotment
For Round 1 as there is Free Exit & Free Entry candidates can resign from their allotted seat in First Round if he/ she is not satisfied with the allotted seat and can still participate in Round 2 with original User ID & Password of Round 1. Candidates who are allotted a seat in Round 1 but do not join are also eligible to participate in Round 2.
Who are eligible for 2nd Round of allotment?
Candidates eligible for seat allotment in the 2nd round would be from one of the following categories:
Category I: Registered candidates who did not get any seat allotment in the 1st round.
Category II: Registered candidates who have secured seat under reserved quota & whose 1st round of allotted seat got cancelled during the document verification on reporting for admission will be considered for allotment of seat in the next round of seat allotment, with changed Category, subject to availability of seat in the respective category.
Category III: Candidates who have reported at the allotted institute during the 1st round of allotment and submitted willingness for second round up-gradation as Yes.
Category IV: Candidates who have been allotted a seat but Not Joined.
Category V: Candidates who have resigned from the allotted seat of the first round.
Documents are required at the time of Joining/ Reporting in allotted Medical / Dental College
Original documents (along with attested photocopies of documents) for admission to undergraduate medical courses for admission to 15% of total seats on All-India basis required at the time of joining in allotted Medical / Dental College are as mentioned below.
1. Admit Cards of Exam issued by Central Board of Secondary Education (CBSE).
2. Result/ Rank letter issued by CBSE.
3. Date of Birth Certificate (if Metric Certificate does not bear the same) (iv) Class 10th Certificate.
4. Class 10+2 Certificate
5. Class 10+2 Marks Sheet
6. Eight (8) Passport size photograph same as affixed on the application form.
7. Provisional allotment letter generated online.
8. Proof of identity (Aadhar/ PAN/ Driving Licence/ Passport)
9. For NRI/ OCI candidates appearing for Deemed Universities following documents are mandatory: a) Passport copy of sponsorer b) Sponsorship affidavit (stating that sponsorer is ready to bear the expenses for the whole duration of the study) c) Relationship Affidavit (Relation of Candidate with the sponsored)
10. The Candidate should also bring the caste certificate, if applicable:
Q. If a candidate does not report at the allotted college during Round 2 whether he has to register again for Mop Up round of Deemed/ Central Universities?
Ans:- Yes, Candidate security amount will be forfeited and he has to register fresh in Mop Up round with Fresh Payment.
Procedure for NEET 2018 Second round Counselling
Second round of Counseling: Fresh set of seats gets added to the system (seats available during round-1), if any, which is due to latest approvals of MCI/DCI. Further, the conversion of seats is also carried out during the round-2 of seat allotment for AIQ and Mop Up Round for Deemed Universities and accordingly, the candidates are required to be shown all choices (seats available and likely to be available) which are against vacant, newly added seats, virtual vacancies which are likely to get vacated during up-gradation and also during the conversion of seats as per the following algorithm:
ST (PH) -> ST
SC (PH) -> SC
UR (PH) -> UR
OBC (PH) -> OBC
ST -> SC
SC-> UR
The choices of candidates, who have submitted option for participation in the second round during the reporting period for the first round seat allotment, would be initialized (the choices remaining after allotment, submitted before round-1 will stand cancelled), and candidates are required to submit fresh choices online during the time the window is open for the same. Choices which were filled during 1st round of choice filling will be null & void.
All eligible candidates who desire to take part in second round & Mop Up Round of online allotment will have to submit fresh choices during choice submission period and lock the choices during period of locking.
There will not be any indicative allotment in Round-2 of allotment, locked choices of the candidates would be processed and result will be published. Those candidates, who do not submit fresh choices for the round-2 counselling, would not be considered.
FAQ about NEET 2018 Counselling: Candidates can save and download the PDF by clicking on the link given. PDF contains frequently asked questions related to NEET 2018 Counselling. To download the PDF – Click Here
If anyone has a query related to this article. Then please inform us by writing in the comment section given below.