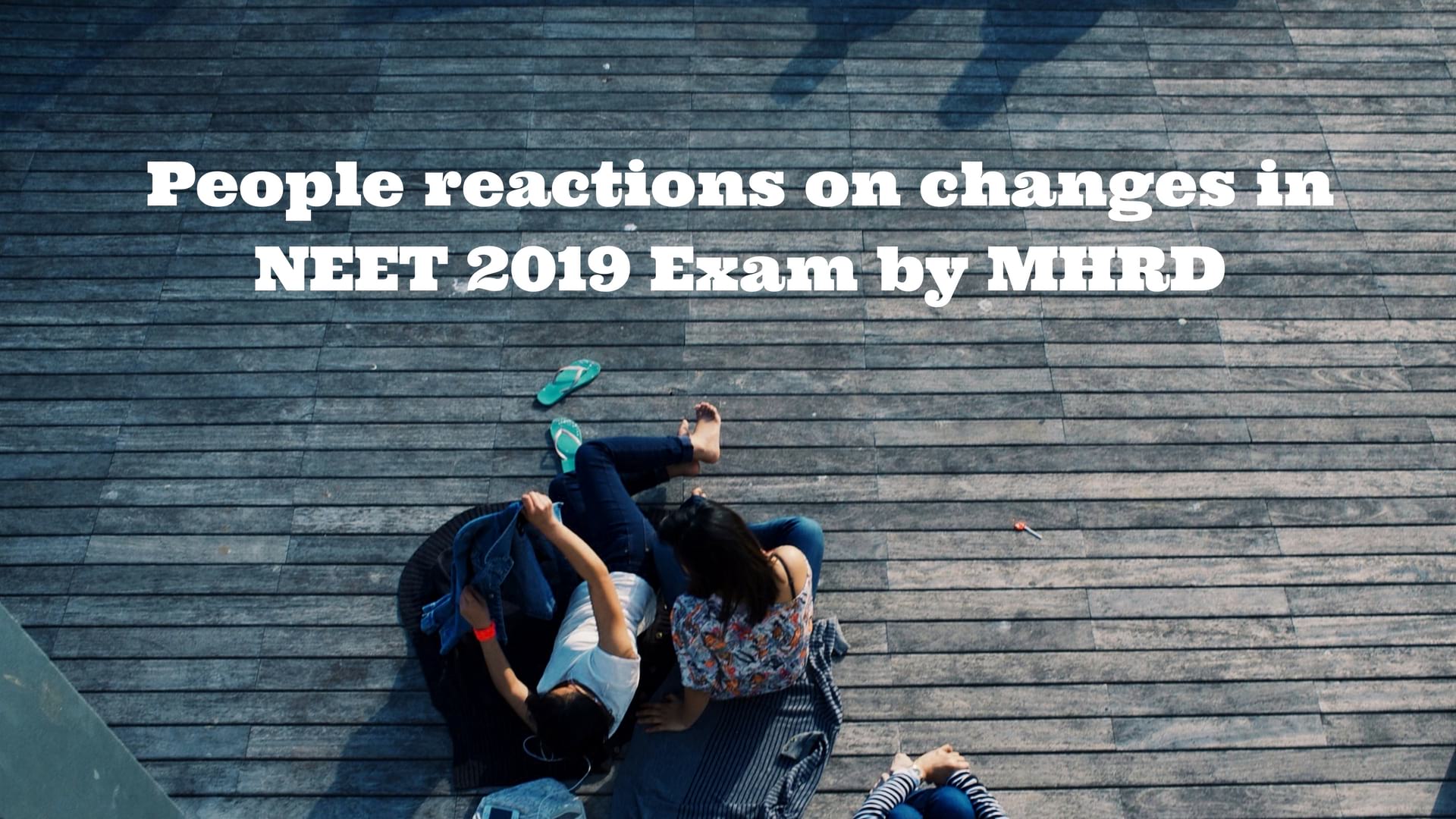 Could MHRD Ministry get any more boos? After the MHRD minister, Prakash Javadekar announced the rolling back of the idea of conducting NEET 2019 exam twice a year and conducting it in only online mode, a swamp of disapproval came shooting in from students from across the nation. Twitter exploded with NEET Aspirants mocking and booing the MHRD Minister Prakash Javadekar's decision of reconsidering what was supposed to be a huge relief for NEET aspirants. Among the many tweets that expressed disappointment, some tweets came in as sarcastic and snarky making the reader spark a smirk off their face immediately.
So what Really Happened?
Were there any valid reasons behind this sudden held back from the MHRD Ministry? Perhaps Mr. Javadekar had a vision in his dreams that woke him up in the middle of the night. And as he jumped out of his bed screaming, "Baba Ramdev", he thought to himself that rolling back the idea of conducting NEET exam twice a year in online mode would be a 'sanskari' thing to do.
Subscribe For Latest Updates
Subscribed Successfully.
Already Subscribed.
Well it so happens that on 21st August 2018, NTA released a notice citing that the change in the NEET 2019 exam pattern (as against the statement made on 7th July 2018), which will now be a single exam in pen-paper mode and in same number of languages as has been conducted last year, is on the request of Ministry of Health and Family Welfare who wanted the same pattern followed last year to be maintained.
Admission Open 2023

Uttaranchal University Admission Open
Apply Now!!
The MHRD Ministry propounded the following self-proclaimed valid reasons for contradicting their own decision.
Firstly, conducting the NEET Exam in online mode would prove disadvantageous to the students coming from the rural background.
Secondly, there will be a lot of pressure among students if NEET happens twice a year.
What do The Students Have To say?
Now it is clear that most students disagree with the MHRD decision to revert the ambitious plan. Here are a few tweets and comments from the social media sites suggesting the student uproar.


@Bikashtiwari is certainly not feeling it. What's more is that his gloomy display pic perfectly paints the picture for his words. Mr. Javadekar, you're killing happiness.



Strong words of disapproval from @NikitaRajwani with an aggressive uproar against the privileges given to non-medical students. Hmm, Mr. Javadekar, are you seeing this?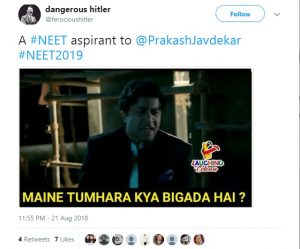 HAHA! Dangerous Hitler killing it! A meme based protest!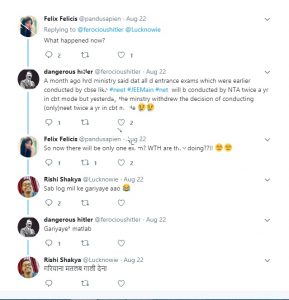 The desi way of dealing with frustration is simply to spark the abusive self in us. I'm sure @Lucknowie Rishi will get lots of support for his comment.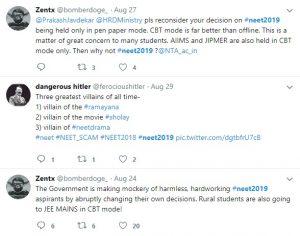 HAHAHA! Dangerous Hitler killing it again! Hmm, Snary!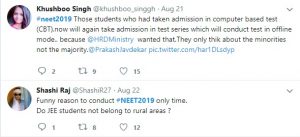 Touché!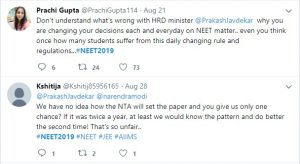 Clearly, as one can see, NEET Aspirants are on a rampant uproar. This was indeed only a snippet of loads of tweets and comments shared by students and NEET Aspirants from across the nation.
Something to be Happy About?
On the bright side, NTA will be establishing a nationwide network of Test Practice Centres or simply TPCs. This is to ensure a fair and just opportunity for students from rural backgrounds. MHRD feels there is a need for the students from rural backgrounds to be able to participate in the Computer-Based Formats of Entrances. Moreover, TPCs will help students get familiar with the mechanisms of Computer-Based Tests such as logging in to the system, following up the instructions, etc.
Conclusion
Finally, will MHRD reconsider the plan to have NEET Exam conducted twice a year? Considering the fact that NTA has introduced TPCs, will this change the minds of MHRD ministry? Will they truly consider the rural aspirants to be on a par with their city based peers? Only time will tell.
If you have any views, suggestions or any comment to make, then please feel free to do so by writing it in the comment box given below.