JIPMER MBBS 2018 Counselling & Seat Allotment: JIPMER MBBS 3rd round counselling schedule released. Link to download the PDF is given below. JIPMER is an acronym for JIPMER conducts its own entrance examination for admission to the undergraduate MBBS programme every year in the month of June. JIPMER MBBS 2018 3rd round is scheduled to start from 20th August 2018. JIPMER MBBS 2018 2nd Round counselling schedule released by the official authority. To check the dates and official notice- download the PDF given below.
Subscribe For Latest Updates
Subscribed Successfully.
Already Subscribed.
This year i.e 2018, the JIPMER MBBS 2018 Exam has been held in online mode on 3rd June 2018. Among all the events of an entrance examination, counselling and seat allotment procedure is a very significant part to get admission into the Institute. This article will help the candidate to know how the counselling and seat allotment of JIPMER is conducted.
JIPMER MBBS Latest Updates 2018
JIPMER MBBS 3rd round counselling schedule released. Click Here to download the official notice in PDF format.
JIPMER MBBS 2018 Counselling for 2nd round is conducted on 25th July 2018 through offline mode.To check the notice  – Click Here
Additional candidates called for JIPMER MBBS 2018 counselling  – Click Here
Seats offered through JIPMER 2018 exam
Through this exam, JIPMER offers admissions to 200 seats (150 seats at the JIPMER Puducherry campus and 50 seats at the JIPMER Karaikal campus) in MBBS course.
S. No
Category
JIPMER

(Puducherry)

JIPMER

(Karailkal)

Total
Rank
From
To
1.
General
55
19
74
1
592
2.
OBC
29
9
37
1
297
3.
SC
15
5
20
1
160
4.
ST
7
2
9
1
72
5.
P-UR
22
9
31
1
257
6.
P-OBC
10
3
13
1
104
7.
P-SC
5
1
6
1
48
8.
P-ST
3
1
4
1
12
9.
NRI/OCI
5
1
6
1
48
10.
OPH*
5
1
6
1
48
11.
P-OPH*
2
–
2
1
6
TOTAL
150
50
200
–
–
*Horizontal Reservation
The counselling schedule of JIPMER MBBS 2018 has been released.  The JIPMER MBBS 2018 Counselling generally takes place after the merit list declaration. The JIPMER MBBS 2018 Merit List has been declared. The candidate who took the JIPMER MBBS Exam 2018 must check the merit list to find out whether they have qualified and eligible for the counselling or not.  The qualified candidates will be called counselling based on their category and on different dates.The officially JIPMER MBBS 2018 Counselling schedule has been released and the same has been updated in the table given below.
The candidates who took the JIPMER MBBS 2018 Exam can download their individual rank letter detailing their marks from the official website from 12th June 2018(tuesday) from 11 AM. To check the JIPMER MBBS 2018 common and category-wise Merit List – Click Here.
Counselling Dates(announced) of JIPMER for 2018
1.
UR-OPH/P-OPH
26.6.2018
2.
OBC/SC/ST
27.6.2018
3.
Puducherry- UR/OBC/SC&NRI/OCI
28.6.2018
4.
Reporting Time
8AM
5.
Venue
JIPMER ACADEMIC CENTER

JIPMER – Puducherry – 06

Date, Venue and reporting time for PwD -OPH & P-OPH Candidates
6.
Date
25th June 2018
7.
Reporting Time
9 AM
9.
Venue
Academic session (III Floor)

JIPMER ACADEMIC CENTER

JIPMER Puducherry – 06
The counselling of JIPMER 2018 will be conducted in offline mode where candidates have to be physically present at the venue in order to participate in the counselling for the academic session 2018. Counselling and seat allotment of JIPMER follows a definite set of procedure. To have a look at the overview of counselling procedure, follow the flow-chart given below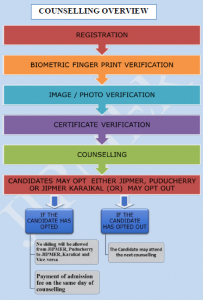 Important Points Regarding Counselling of JIPMER 2018
Candidates are advised to visit the official website on a regular basis for updated information. They will be required to attend counselling at the Institute on the notified date. The candidate called for counselling have to report at the allotted venue on the specified date and time as mentioned in the Call Letter.
Biometric finger print and image verifications of the candidate will be done on the day of counselling. If the candidates "Biometric finger print, Image and Certificates are found in order, He / She is eligible to attend the subsequent rounds.
JIPMER MBBS 2018 Document Verification
The list of certificates that has to be brought on the day of counselling is provided below. The Candidate should produce the following certificates along with one set of self-attested copies of the following as document verification during counselling procedure
Hall ticket of JIPMER 2018
Rank Letter of JIPMER 2018
Proof of Date of Birth (Birth Certificate or X Std. Certificate).
Pass Certificate of the qualifying (10+2) examination.
Statement of marks of the qualifying examination.
Character and Conduct Certificate from the Head of the Institute last studied.
Residence Certificate issued by Revenue Authority not below the rank of Tahsildar.
In case of Other Backward Classes/ Scheduled Caste/ Scheduled Tribe, a Community Certificate, recently obtained from the competent authority – a Revenue Officer not below the rank of Tahsildar.
Other Backward Classes (OBC) candidates should produce the required certificate as per the format in the Annexure (available in the official information brochure of JIPMER 2018).
Transfer Certificate from the Head of the Institution last studied.
In case of Puducherry residents, the Residence Certificate / Employer Certificate as required in the Prospectus.
Medical Certificate in case of OPH Candidate.
Six Passport size colour photographs recently taken.
Non Resident India
Recent NRI Status certificate of the parent or candidate issued by the Indian Embassy of the respective Country with the Embassy seal.
Overseas Citizen of India
Certificate of Registration for Overseas Citizen of India.
NOTE: If the certificates are in any other language except English, then candidate have to make English translation of the certificate on a A4 size white paper on a computer and same must be attested by a Gazetted Officer.
Detailed Information on Counselling Rounds of JIPMER 2018
Counselling: Round 1
The following table shows the first round of counselling for various categories. The seats will be filled first in the following order and schedule tentative dates are provided below
| | | |
| --- | --- | --- |
| S. No | Category | Dates (announced) |
| 1. | OPH & P-OPH (Medical Examination) | 26.06.2018 |
| 2. |  UR/OPH & P-OPH | 27.06.2018 |
| 3. | OBC/SC/ST | 28.06.2018 |
| 4. | Puducherry-UR/OBC/SC & NRI/OCI | 25.06.2018 |
In each category, the total no. of the candidate to be called for counselling will be 10 times the number of seats available in each category.
If a candidate has opted/chosen for JIPMER, Puducherry, he/ she will not be allowed to change JIPMER, Karaikal & vice versa i.e sliding will not be allowed from JIPMER, Puducherry to JIPMER, Karaikal and vice versa. He / She will not be eligible for the second counselling.
If a candidate who has not opted/chosen in the first counselling. He/ She will be eligible to attend the second counselling.
Counselling: Round 2
If seats remain vacant after the first round, then second counselling will be held tentative on 19th July 2018.
The dates to the eligible candidates for the second round of counselling shall be notified in JIPMER website and no personal intimation will be sent.
A candidate who is absent at the time of first counselling will forfeit his / her chance for admission and will not be eligible for second counselling.
A candidate who is present for the first counselling but does not opt/exercise option at his /her category rank will be eligible to attend second counselling.
The order of the second counselling will be OPH/UR/OBC/SC/ST/Puducherry-UR/OBC/SC &NRI/OCI (Subject to availability of seats vacant).
Any seat remaining vacant after the second counselling due to candidate's not opting/joining, will be available for the third counselling.
Counselling: Round 3
Any seat remaining vacant after the second counseling due to candidate's not opting/joining, will be available for the third counseling which is scheduled to be held tentatively on 23rd August 2018.
Open Counselling:
This is the last round of the counselling of JIPMER. In Open Counseling, All candidates who are eligible and whose name appear in the merit list of JIPMER 2018 can attend this open counselling irrespective of their previous attendance. Counselling will be on the basis of merit rank.
Seat Allotment of JIPMER 2018
Admission to all candidates is based on the merit, category of the candidates, and the availability of seats at the time of counselling. All candidates should report on the specified date mentioned in their ' admission letter ', provided at the time of counselling failing which, they will forfeit the right of admission.
If in future, the competent authorities find that admission has been offered based on false/ incorrect information/ documents and suppression of relevant facts, educational qualification or quota, the admission offered or the admission already completed shall be cancelled, irrespective of the stage of the study of that course. Further, legal proceedings will also be initiated against such candidates for such action/(s). Hence, Candidates are warned against indulging in such action/ (s), in their own interest.
The parents of all the candidates who are going to participate in JIPMER 2018 counselling are also requested to make note of the above provision, and take due care and diligence, in all matters concerning admission to the courses.
No candidate, except foreign nationals, will be admitted to the MBBS course beyond 30th September of the year of the admission under any circumstances. The candidates who are admitted after 30th September will be eligible for appearing in the First    Professional Examination only with the next batch of students.
So to know about the counselling and seat allotment of JIPMER 2018 procedure in detail, candidates can go through this article. The counselling process is basically followed by the publication of result and merit list of JIPMER 2018. To know more about the result, merit list and cut-off of JIPMER 2018, Candidate can refer to "JIPMER 2018 Result and Merit List" article.