WBJEE Counselling 2018: WBJEEB had released a notification for the WBJEE counselling and seat allotment process. Before WBJEE counselling and seat allotment, course-wise and institute-wise availability of seats as provided by the competent authorities had also been published. Information of all candidates participating in e-counselling will be verified at Reporting Centers on prescribed dates. There are approximately 36,000 seats in total vacant for the candidates in WBJEE 2018. The process of registration for WBJEE 2018 counselling, creating passwords and fee submission had begun from 9th June 2018. Candidates can fill their choice during this period, and the automatic locking of choice had taken place after the choice filling was done.
Check Eligibility For WBJEE Exam
WBJEE Counselling Schedule 2018
| | |
| --- | --- |
| Events | WBJEE Counselling Dates |
| WBJEE Result 2018 Release Date | 05 June 2018 |
| WBJEE Counselling Online Registration Begins | 9th June 2018 |
| Last Date to Register for Counselling | 15th June 2018 |
| Choice filling process | 9th – 16th June 2018 |
| WBJEE Counselling Round 1 Result | 19th June 2018 |
| Payment of provisional admission fee and reporting to RCs for document verification, withdrawal etc. | 20th – 25th June-July 2018 |
| Physical reporting and admission at finally allotted institutes (PI) by the candidates who have an allotment in 1st round of counselling | 20th June – 7th July 2018 |
| WBJEE Seat Allotment Round 2 Result | 27th June 2018 |
| Payment of provisional admission fee and reporting to RCs for document verification (for new allotments only), withdrawal etc. | 28th June – 1st July 2018 |
| 3rd round of seat allotment result | 4th July 2018 |
| Physical reporting for document verification at Reporting Centre after 3rd round of seat allotment/initial fee payment (fresh allottees) | 5th – 6th July 2018 |
| Physical reporting and admission at finally allotted institutes (PI) by candidates who have an allotted seat | 5th – 7th July 2018 |
| E-admission process ends on | 7th July 2018 |
WBJEE Counselling Procedure 2018
The WBJEE Counselling registration 2018 had begun from 9th June 2018. The shortlisted candidates need to follow a definite procedure given below in order to participate in the WBJEE counselling and seat allotment procedure. The detailed procedure of WBJEE counselling 2018 is provided below. 
Step 1: Online Registration
The first and foremost step to participate in the WBJEE Counselling 2018 is to get registered. The qualified candidates must register themselves by following the steps given below.
Admission Open 2023

Uttaranchal University Admission Open
Apply Now!!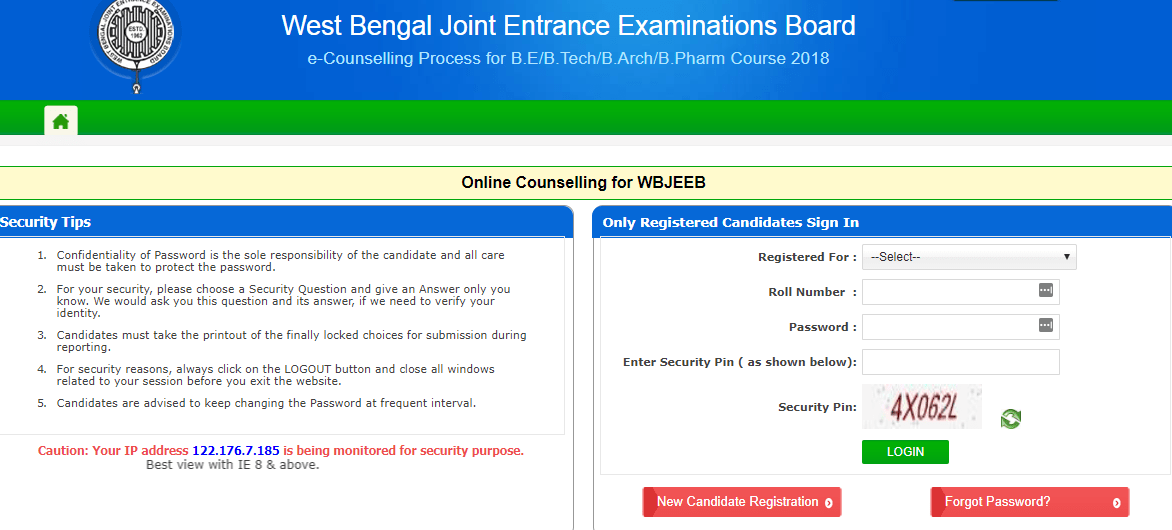 If you are a new user, then select "New registration" option for fresh registration. Candidates can opt for the registration either via WBJEE, JEE Main 2018 or even both.

Candidate needs to enter their WBJEE 2018 roll number, name, date of birth and application number. Please enter valid information which matches to the info given in the WBJEE admit card.

Applicants who are registering via JEE Main 2018 will have to enter their JEE Main application number, roll number, name and date of birth as per their JEE Main Scorecard.

If any candidate opts for both WBJEE 2018 and JEE Main 2018, then he/she will have to enter the details of both the exams.

After entering the above details, the applicants need to fill the details asked in the application form.

Click on the "submit" button to register successfully.
NOTE: Applicants, while entering the required details must ensure that they enter all the necessary information correctly and check twice before submitting the registration form. This is because, once the registration form is submitted, candidates will not be able to make any changes/edit to details like PwD status, gender, religion, category, state of domicile, TFW status etc. Candidates will be allowed just once registering for WBJEE counselling 2018 that is at the beginning of the first round.
Step 2: WBJEE Counselling Fee Payment
After registering successfully, candidates are required to pay the WBJEE 2018 counselling fees of Rs. 500. To do that, applicants need to download the e-challan by visiting the official website and deposit the fee either through E-challan of Allahabad Bank or through debit/credit card or even net banking. As soon as the candidate is done with the payment, he/she will have to enter the e-challan payment details by logging into the official website after which the identity code and password will be generated.
NOTE: The WBJEE 2018 counselling fee once paid will not be refunded under any circumstances.
Step 3: Choice Filling and Locking
The next step after counselling fee payment in WBJEE counselling 2018 is choice filling and locking. In this step, candidates will have to select the streams and institutes as per their preference. Candidates will be able to fill as many choices as they want and lock their choice. Choice filling and locking will be allowed only once. Candidate cannot make any changes in the order of preference of college and streams afterwards. So, candidates are advised to choose and arrange the preferred institutes carefully.
Key Points to Remember While Choice Filling of institutes
Candidates are advised to fill as many choices of institutes as they can, as there is no restriction for it.

Before filling their choices, candidates are advised to check the WBJEE 2018 cutoff for admission to a particular institute to know their chances of admission at the college.

While filling the choice during the WBJEE counselling 2018, candidates need to make sure that they make the correct selection list of the institute as the selected preference will be taken into consideration while allotting seats.

Once choices are locked, candidates will not be allowed to make any changes/edit afterwards.

Candidates must take a print out of the selected choices of the institute after submitting them.
The seat allotment result has been released for the qualified candidates based on the candidate's rank in WBJEE 2018, preference and availability of seats. Candidates will be allotted a seat in the participating institutions as per their merit and the choice of courses and institutes opted by them. Candidates, in order to find out the seat allotted to him/her, need to login by using their credential to check their allotment.
NOTE: Individual seat allotment letters will not be sent to the candidates.
Step 5: Document Verification
Candidates, if satisfied with the allotted institute, they must freeze their seat as this reflects that the candidate doesn't want for up-gradation of the institute. The candidates will have to verify their documents and pay the prescribed fee at the reporting centre as described below.
| | | |
| --- | --- | --- |
| S. No | Quota | Amount |
| 1. | TFW | Rs 4000 |
| 2. | Self-financing Universities/ Institutes | Rs 20,000 |
| 3. | State Aided/ Govt Institutes | Rs 5000 |
Step 6: Reporting to the allotted institute
After the document verification and payment of fees are done, candidates will be given the provisional seat allotment letter issued by the counselling authority. Candidates shall be required to sign an undertaking stating that their earlier seat allotment will stand cancelled if they are allotted a seat of higher preference in the second or third round up-gradation. Thereafter, candidates have to report to the allotted institute if they are satisfied with their seat allotted within scheduled dates. They must notify the admission committee at the institute with their necessary documents. Candidates must carry both original and photocopies of the documents to the institutes.
Documents Required during WBJEE Counselling 2018
Candidates who are going to report at the counselling centre must carry the below-mentioned documents. The relevant documents and certificates must be in original form and one photocopy of all the documents also required to be carried.
WBJEE 2018 Rank Card provided on the website
Class 12th Mark Sheet
Class 10th Admit Card
WBJEE 2018 Seat Allotment Letter
Receipt of Counselling Registration Fee
Category Certificate
PWD Certificate
Domicile Certificate
Counselling Fee
WBJEE Counselling Rounds 2018
In the first round, seats will be allotted to candidates and a list of vacant seats will be prepared.
In this round, candidates who have upgraded their choices will be granted the seat. After the fresh candidates who have been allotted seats, complete their reporting at concerned centres and vacant seats are generated, the 3rd round of allotment is made.
In this round too, candidates who have upgraded their choices will be granted the seat. These candidates need not report to the Reporting Centre again if they do not want to change the choice of up-gradation from yes to no.
Candidates will have to fill in the choices of the college during WBJEE 2018 counselling. These choices will be considered as locked. This will be done after the 3 rounds have taken place. Candidates need to take a print of the choices filled. Seat allocation will be based on this choice.
The entire WBJEE offline counselling process will take place in three rounds. Seat allotment will be done on merit basis and according to the student's preferences. Individual allotment letters will not be sent. The candidates will then have to report to the allotted centres to complete the admission process like payment of college fees and other such formalities.