The Professor Jayashankar Telangana State Agricultural University conducts/ organize an entrance exam for admission to the various courses offered. The entrance exam is taken to give the students UG, PG and Ph.D. programme.  Admission to PJTSAU is given on the basis of entrance exams. The Telangana State Agricultural University has released the Agricultural Polytechnic Diploma course counselling notification 2018 and PJTSAU invited the applications from the eligible candidates for admission into two year duration Agricultural, Seed Technology Polytechnic Diploma Courses and Three year Diploma in agriculture Engineering courses in  Professor Jayashankar Telangana State Agricultural University (PJTSAU) and its affiliated recognized private Agriculture Polytechnic institutes for the academic year 2018-2019.
Subscribe For Latest Updates
Subscribed Successfully.
Already Subscribed.
Latest Update:
PJTSAU has released the Combined Counselling Schedule for the admission to the various UG courses of PJTSAU, PVNRTVU & SKLTSHU. The date of counselling is 11-09-2018. Click Here for the details.
| | |
| --- | --- |
| Lovely Professional University 2019 Admissions Open | Apply Now!! |
The Second phase of Combined Counselling Schedule for the admission to the various UG courses of PJTSAU, PVNRTVU & SKLTSHU for the admission to the various UG courses of PJTSAU, PVNRTVU & SKLTSHU for both Farmer and Non-Farmer category is released. Click Here for the notification.
PJTSAU will conduct the counselling for the admission to B.sc. (Hons.) Agriculture on 10-09-2018. Find the official notification here. 
Important NOTE:
469 companies offered 5684 jobs to SRM University Students You too can be one of them? – SRM 2019 Application Form has been Released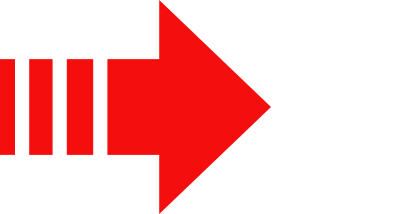 MAKE SURE YOU APPLY
<==Click Here!!
PJTSAU Counselling Dates 2018 for Farmers Quota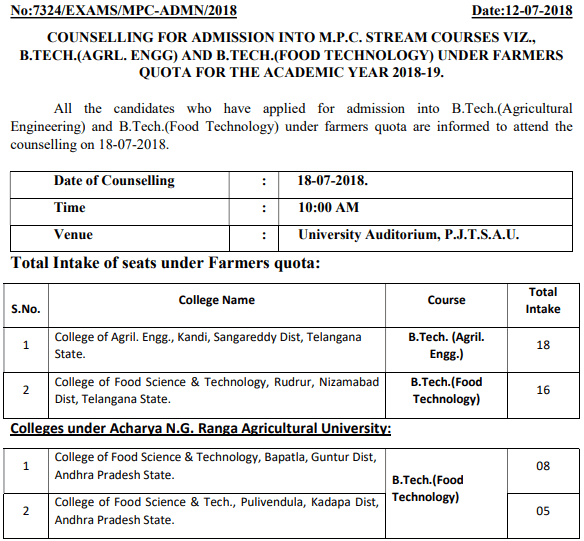 PJTSAU Counselling Dates 2018 for Community Science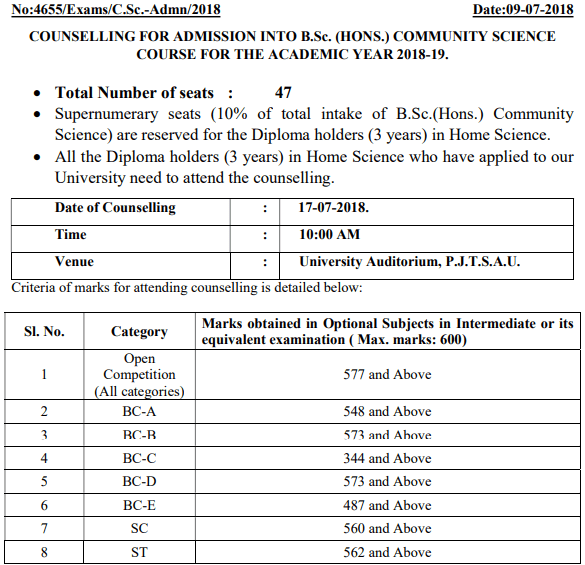 Important Instructions Regarding PJTSAU Counselling
This notification shall be treated as individual intimation. No separate intimation will be sent.
Open Competition includes all categories viz., OC, BC, SC & ST (by merit only).
The candidates are required to produce all the relevant original certificates at the time of
counselling failing which the candidature for admission will be disqualified.
The selected candidates will have to pay an amount of Rs. 33,750/- requisite fees
including deposits immediately failing which the seat will stand cancelled.
Fees once paid to the University shall not be refunded under any circumstances. In
case of the seat cancellation, the candidate has to forfeit the fee already paid and in
addition, the candidate has to pay an amount of Rs. 4,000/-(Rs. 2,000/- for
SC/ST/PH) towards cancellation fees.
Hostel accommodation shall be provided subject to availability.
Selection of candidates under BC, SC & ST quota is subject to clearance by the
respective social status by the respective Directorates of Government of Telangana.
The provisional selection under BC-E category is subject to the final adjudication (in
W.P.No. 15267 of 2007) in the Hon'ble High Court.
The guidelines issued by Government of Telangana from time to time shall be followed
scrupulously.
Candidates called for counselling shall have to attend at their own cost and only one
parent / guardian of the candidate will be allowed to accompany the candidate during
counselling.
The University doesn't guarantee any employment to the candidates joining the course.
Candidates are required to read the prospectus thoroughly before attending the
counselling.
It is likely that counselling process may extend late into the evening, hence the candidates and parents/ guardians are requested to come well prepared.
Counselling for admission under NCC, Sports, CAP (Defence) and P.H. quota will
be held separately and accordingly notification will be placed on the University
website (www.pjtsau.ac.in) at a later date.
More number of candidates (1:6) than availability of seats are called for Counselling
and hence mere attendance / participation during counselling does not guarantee
admission.
Candidates should report at the Counselling center one hour before the scheduled time.
Certificates / documents other than those uploaded will not be entertained or considered for the allotment of seats.
Candidates belonging to BC, SC & ST Categories should bring two Xerox copied of their
caste certificate to be submitted at the counselling center.
List of Certificates
Candidates are required to bring the Original Certificates along with two sets of Xerox copies, necessary fee and three latest passport size photographs and these photographs are required to be affixed on admission processing and other forms.
1. SSC Marks Memo
2. Sudy Certificates( From Class IV to X)
3. SSC Transfer Certificate
4. Latest Caste Certificate (In case of SC/ST/BC's)
5. Latest Income Certificate
6. Two passport size photographs and 2 Sets of Xerox Copies.