Press release on NTA Official Website stating that HRD Minister, Prakash Javadekar had announced on the 7th of July, 2018 that JEE Main 2019 and other major examinations like NEET, UG NET, etc. will now be conducted twice in a year and only in the online mode by the National Testing Agency (NTA). As candidates who are going to give the examinations in 2019 are new to the Agency and the whole set up of the JEE, NEET and other exams being conducted by NTA, we have come up with all the information that an aspirant needs to know about NTA Official website: nta.ac.in.
NTA Official Website: nta.ac.in
The official NTA website is nta.ac.in.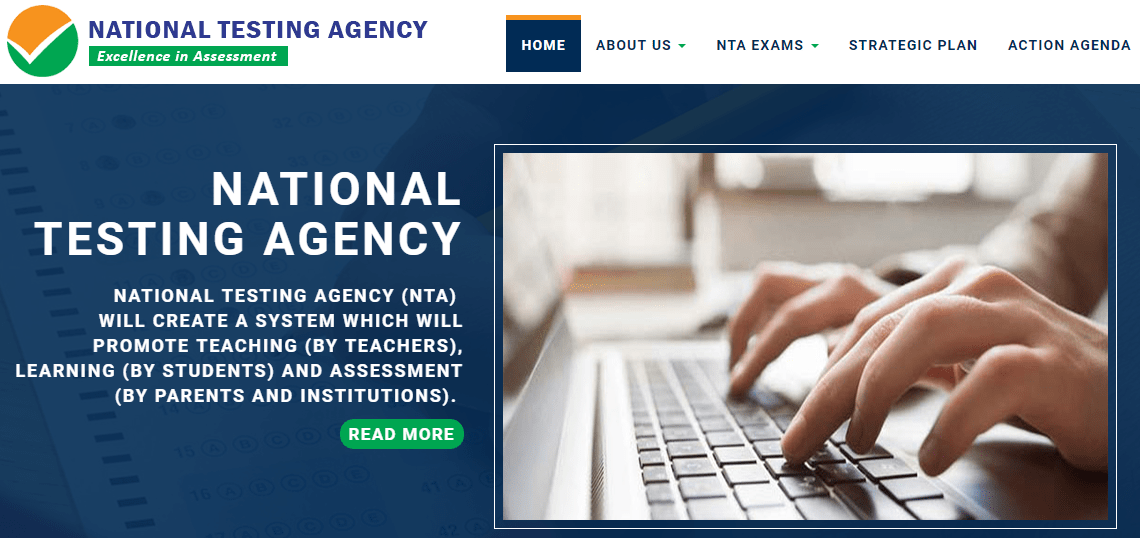 Check Eligibility For NTA JEE Main Exam
Candidates must note this NTA official website as this is where the correct and authentic information will be provided regarding all the examinations being conducted by NTA. Please note that there are a lot of websites that have been created in the name of NTA and are not the official websites. Aspirants must not be confused and seek information from websites other than nta.ac.in.
Admission Open 2023

Uttaranchal University Admission Open
Apply Now!!
Candidates must note that all the examination procedures like registration, application form filling, slot booking, the release of admit card and results will be done on the official website of NTA only. Websites like jeemain.nic.in, cbseneet.nic.in will be non-operational.
What is NTA?
National Testing Agency (NTA) was approved by the Union Cabinet in November 2017 as an Autonomous and self-sustained premier testing organization to conduct entrance examinations for higher educational Institutions. The NTA is aimed to bring qualitative difference in the examination process by its focus on research and scientific test design using services of Experts, Researchers, Statisticians, Psychometricians, Test Item Writers and Education Specialists. The item writers would be trained to ensure that the quality of questions is as per the test design. The experts, statisticians and item writers/subject matter experts are already identified for being inducted into NTA.
NTA's Strategic Plan
NTA will work with the Government of India, UGC, AICTE, IITs, Universities, School Boards and state governments for research and develop tests for effective assessment of people. When fully operational, NTA will develop, administer and mark about 150 lakh candidates annually across the country and abroad in more than 500 cities and 5000 test centres. The NTAs tests will be scientifically prepared based on rigorous research and will be of the highest quality so that the user institutions can make well-informed decisions.
NTA will conduct research and design assessments for improving selections by fair, valid and reliable instruments, expanding teaching and learning opportunities and ushering in an era of scientific testing in the country.
NTA will work in the following four areas of expertise:
Research
Test Development
Test Administration
Test Marking
National Testing Scheme
NTA (National Testing Agency) will operate on the National Testing scheme which will provide the below-mentioned advantages:
It will provide the candidate with the opportunity to improve himself/herself.
Provide flexibility to various institutions in structuring the Admission process.
Account for the difference in the socio-economic background of students in an objective and discernible manner.
The national testing scheme will make sure that the structuring is transparent, fair, reasonable and reliable.
NTA Press Release 7th July 2018
The following announcements have been made in the NTA press release on Saturday, 7th July 2018.
Major Exams like JEE, NEET, will be conducted twice in a year.
These exams will be conducted in the online computer-based mode only.
The syllabus and the pattern of question paper would remain the same.
There will be NO increase in the exam fees currently being charged.
All the tests ( UGC- NET (December), JEE (Main) & NEET (UG)) will be conducted in multiple sittings.
Scores of different candidates in multiple sittings will also be equated using standardisation techniques.
NTA will establish a network of test practice centres for students of rural areas so that everyone will have an opportunity to practice before the exam.
All the examinations (JEE, NEET, GPAT, UGC NET, CMAT) will be held in existing number of languages.
Functions of NTA
To identify partner institutions with adequate infrastructure from the existing schools and higher education institutions which would facilitate conduct of online examinations without adversely impacting their academic routine.
To create a question bank for all subjects using the modern techniques
To establish a strong R&D culture as well as a pool of experts in different aspects of testing
To help individual colleges and universities in the field of testing and to provide training and advisory services to the institutions in India. To provide quality testing services to the academic institutions in India.
To develop a state of the art culture of testing in India by using domestic and international expertise. To collaborate with international organizations like ETS to achieve the same.
To undertake any other examination that is entrusted to it by the Ministries/Departments of Government of India/State Governments.
To undertake the reforms and training of school boards as well as other bodies where the testing standards should be comparable with the entrance examinations.