Karnataka Polytechnic Admission 2021: Admission into the first-year diploma program is based on the secondary (Class 10) schooling level. Karnataka Examination Authority (KEA) on the behalf of Directorate of Technical Education, Karnataka invites application from eligible candidates of Karnataka for Karnataka (Govt.) Polytechnic admission to the 1st Year Diploma Courses for Government, Aided Polytechnics and Private polytechnics. It is the state level counselling procedure for admission into engineering and non-engineering courses. There is no entrance exam conducted for admission of candidates into the diploma program. To get the Karnataka Diploma overview 2021 – go through the full article. 
Subscribe For Latest Updates
Subscribed Successfully.
Already Subscribed.
Karnataka Polytechnic Admission 2021 Important Dates
The dates of Karnataka Polytechnic 2021-2022 will be provided here once it releases. For now, find the tentative schedule of the Karnataka Polytechnic Admission 2020 events date.

Karnataka Diploma Eligibility Criteria 2021
Students who are willing to get admission into the first year of the Karnataka Polytechnic Diploma course in the state Karnataka must possess the below-mentioned eligibility criteria. Before applying for Karnataka Diploma Admission 2021, the candidate must check the required criteria to participate in the Karnataka polytechnic diploma counselling procedure.
S. No
Particulars
Details
1.
Nationality
The candidate must be a citizen of India
2.
Academic qualification
The candidate must have completed 05 years of academic study in Karnataka including qualifying

examination.

3.
Educational Qualification For Engineering Diploma Courses
Applicants should have passed Karnataka S.S.L.C or equivalent examination by securing 35% marks in aggregate.
Educational Qualification For Non-Engineering Diploma Courses
4.
1. Commercial Practice (English & Kannada)

2. Apparel Design & Fabrication Technology

3. Modern Office Management

Candidates should have passed Karnataka S.S.L.C or Equivalent Examination by securing 35% marks

in aggregate.

5.
Library Science and Information Management
Candidates should have passed Karnataka P.U.C-II or Equivalent examination by securing 35% marks

in aggregate.
NOTE 1: Candidates who have passed the 10th Standard Exam conducted by CBSE/ICSE and other states 10th Standard candidates shall produce Eligibility Certificates obtained from the Secretary, Board of Technical Examinations, Palace Road, BENGALURU – 560 001 at the time of document verification & online application submission process.
NOTE 2: Candidates opting for Automobile course should have attained the age of 16 years as of 1st July 2021.
Karnataka Diploma Application Form 2021
The Karnataka Diploma Application Form will release tentatively in April 2021. The tentative last date to fill-up the form for Karnataka Polytechnic Counselling will be in May 2021. Applicants need to download the  Karnataka Polytechnic Diploma Application Form, fill up and submit at the nearest "Document Verification Centers" on or before the last date. Please read the eligibility criteria before applying for counselling. The amount to be paid as the Karanataka Polytechnic Application Fee is provided below.
| | | |
| --- | --- | --- |
| S. No | Category | Amount (Rs.) |
| 1. | General or unreserved | 100 |
| 2. | SC/ST/CAT-I | 50 |
Karnataka Diploma Courses With Codes
S. No
Stream
Code
Engineering
1.
Electronics and Communication Engg.
EC
2.
Computer Science and Engineering
CS
3.
Mechanical Engineering (General)
ME
4.
Electrical and Electronics Engg.
EE
5.
Civil Engg.(General)
CE
6.
Cinematography
CN
7.
Electronic Instrumentation and Control Engineering
EI
8.
Architecture
AR
9.
Leather Technology
LT
10.
Automobile Engineering
AT
11.
Chemical Engineering
CH
12.
Mechanical Engineering (Machine Tool Technology)
MY
13.
Mechatronics
MC
14.
Bio-Technology
BT
15.
Agriculture Engg
AG
16.
Textile Technology
TX
17.
Interior Decoration
ID
18.
Information Science
IS
19.
Mining
MN
20.
Ceramic Technology
CR
21.
Civil(PHE)
PH
22.
Metallurgical Engineering
MT
23.
Mechanical Engg (Heat Power Tech.)
HT
24.
Mechanical Engg. (Instrumentation)
MI
25.
Mechanical Engg. (Welding & Sheetmetal Tech.)
WS
26.
Polymer Technology
PO
27.
Printing Technology
PT
28.
Civil Environmental
EN
29.
Aeronautical Engg
AN
30.
Sound Recording
SR
Non- Engineering Courses
31.
Commercial Practice (English)
CP
32.
Library Science & Information Management
LI
33.
Commercial Practice (Kannada)
CK
34.
Modern Office Management
MM
35.
Apparel Design and Fabrication Technology
FT
Karnataka Diploma Merit List 2021
After receiving all the applications from the eligible candidates, the official authority allots a particular rank to all the registered candidates based on certain parameters. Based on the rank allotted, applicants will have to report at the designated verification center and spot admission of Kerala Polytechnic. The parameters which the Karnataka Polytechnic Counselling authority follows are mentioned below
Number of applications
Marks obtained by the candidate in SSLC examination
Minimum qualifying Cut-off
Highest and lowest marks obtained by the applicants in SSLC
Karnataka Polytechnic Admission 2021 Counselling
The official authority will publish the Karnataka Polytechnic counselling date for the registered and Karnataka Polytechnic Merit Listed candidates. Candidates who have been allotted rank within a certain range will have to report at the nodal center for admission process in a particular date and time. Candidates need to carry a set of original and photocopy of the same documents at the time of reporting. Documents needed to be carried are mentioned below.
The Candidate should produce the following documents in original along with filled Karnataka Polytechnic Application Form at the document verification center otherwise they will not be allowed for further admission process.
1. SSLC or equivalent examination marks card/attested Marks extract from respective school Head Master.
2. Original Transfer Certificate/T.C Endorsement (NOC) from the concerned Institutions should be produced by the candidates.
3. Study certificate. (for a minimum five years period should be countersigned by the concerned Block Educational Officer).
4. Rural Certificate (Rural Study Certificate in respect of candidates claiming the benefit of the rural reservation should produce a verification certificate from the concerned Tahasildar along with a rural study certificate for having studied 10 full academic years from 1st standard to 10th standard in Karnataka state).
5. Kannada medium study certificate.
6. Eligibility Certificate: The candidates other than Karnataka S.S.L.C.(CBSE/ICSE & Other States 10th Standard) should produce an eligibility certificate issued by the Secretary, Board of Technical Examinations, Bengaluru.
7. Caste Certificate in the prescribed format.
8. The candidates belonging to the Hyderabad-Karnataka region as per 371(J) shall obtain the relevant certificate.
9. Physical fitness certificate issued by the Registered Medical Practitioner.
10. 6 Passport size Photos.
Karnataka Polytechnic Admission 2021
Applicants who are applying for Karnataka Polytechnic Diploma Admission 2021 must check the seat reservation criteria. There are many castes that fall under the seat reservation category. Students who fall under reservation category, are given age relaxation, fees concession, relaxation in marks, etc. Check the table below to know the seat reservation criteria and categories.
The Five-year study rule above is relaxed to the extent indicated below from a to g.
For the children of the following:
S. No
Categories
1.
Defense Personnel, Central Government Employees and Employees of Central or State Government Undertakings.
2.
Serving or Retired Employees of (i) All India Service of Karnataka Cadre (ii) State Government who had served; are serving in the State of Karnataka, during the period the applicants have been studying outside the State from 1st standard to the Qualifying Examination to the extent of such service outside Karnataka till 01-07- 2020.
3.
Serving Defence Personnel / Ex-Servicemen (with a minimum of 5 years of active service) whose home address at the time of joining to Defence service was in Karnataka.
4.
Members of Parliament, elected from Karnataka to the extent to the period of being an M.P. falling during the period of applicant's study in Delhi from 1st Standard to the Qualifying Examination.
5.
Central Government employees working/worked outside the Karnataka State where such employees had;

i) Declared to the Central Government any place in Karnataka as their home town and;

ii) Studied in an Educational Institution in Karnataka run or recognized by the State Government for not less than five years at any time between the 1st Standard and SSLC or Equivalent Examination.

6.
Any employee (other than Central Government) transferable anywhere in India but at present working/residing continuously for a period of at least 12 months in Karnataka as on 1st July of the year of admission

i) The candidate has passed the qualifying examination from any recognized Educational Institution in Karnataka.

ii) Either parent of the candidate has studied for a minimum period of 10 years in any recognized Educational Institution in Karnataka to the full extent.

7.
Government of India nominees repatriates and students sponsored from other State Governments.
Special Category Candidates
| | | |
| --- | --- | --- |
| S. No | Category | Details |
| 1. | Horanadu Kannadiga(HK) | The candidate and either of his/her parent's mother tongue should be Kannada, Tulu (Kodava) and either parent's was domiciled in the state of Karnataka. |
| 2. | Gadinadu Kannadiga(GK) | The children of parents whose mother tongue is Kannada and who are at present residing in the border disputed Kannada speaking areas viz., Taluks of South Sholapur, Akkalkot, Jath, Gandhingla of Maharastra State, Kasargod Taluk of Kerala state for a period of 05 years as on 1st July of the year of admission. |
| 3. | J.T.S/ITI | Candidates who have passed SSLC or Equivalent Examination with 35% of marks in aggregate and should have passed JTS (3 years course) / ITI (2 Years Course) 17ecognized by Govt. of Karnataka are only eligible for seats reserved under JTS / ITI quota. |
| 4. | JOC | Candidates who have passed SSLC or Equivalent Examination with 35% of marks in aggregate and passed Job Oriented Course (2 years after 10th Std.) recognized by Govt. of Karnataka are only eligible for seats reserved under JOC quota. |
| 5. | Scouts/Guides | Candidates with Rastrapathi Puraskar Award / Rajya Puraskar award are eligible. |
| 6. | NCC | The candidates who possess 'A' certificate obtained during 3 years period between 8th and 10th standard are only eligible. |
| 7. | Physically Disabled(PH) | Those who have a minimum physical disability of not less than 40% or visual ability not exceeding 6/60 or 20/2000 Snellen or hearing loss of more than 70 decibels are eligible. |
| 8. | Anglo Indian(AI) | Two seats are reserved for Anglo Indian candidates of Karnataka in S.J.(Govt.) Polytechnic, BENGALURU. The candidates claiming seats under the AI quota should obtain the certificate stating that they belong to the Anglo-Indian community from the honorable Member of Legislative Council representing the Anglo-Indian community. |
| 9. | Political Sufferer(PS) | Son or daughter of Freedom fighters (PS) those who have participated in freedom struggle before as amended from time to time. The candidates claiming seats under PS quota should obtain the certificate stating that they are the Son or daughter of Freedom fighters (PS) from the competent authority. |
Karnataka Diploma Admission 2021 Special Reservation
There are certain categories which fall under special category and they are as follows:
S. No
Category
Details
1.
Girl Student
Thirty percent (30%) of seats are reserved for Girl Students in all Government / Aided Polytechnics(Co-Education) in respective categories.
2.
Kannada Medium Students
Five percent (5%) of seats have been reserved in Government and Aided Polytechnics in the state in favor of candidates who have studied for 10 full academic years in Kannada medium from 1st standard to 10th standard in any recognized Institution located in Karnataka.
3.
Rural
Means a candidate should have studied in places other than the following areas: Larger urban area, Smaller urban area or Transitional area
4.
Differently Abled Students
1. Three percent (3%) of seats are reserved in all Government /Aided Polytechnics in respective courses.

2. A total of 25 seats are reserved over and above the intake in Govt. Polytechnic, Belagavi, Govt. Women's Polytechnic, Mangalore and Govt. Smt.L.V Polytechnic, Hassan for differently-abled candidates as per the scheme of Ministry of Human Resource and Development, Govt. Of India, New Delhi.

5.
Supernumerary Quota
The AICTE has introduced the Supernumerary Quota in all Govt./Aided/Private Polytechnics. Five percent (5%) of the seats in each Polytechnic and in each course will be reserved as Supernumerary Quota.
Karnataka Admission 2021 Document Verification Center
Here we have provided the list of Document Verification Center to submit the Kerala Polytechnic Application Form and verify the documents, certificates etc.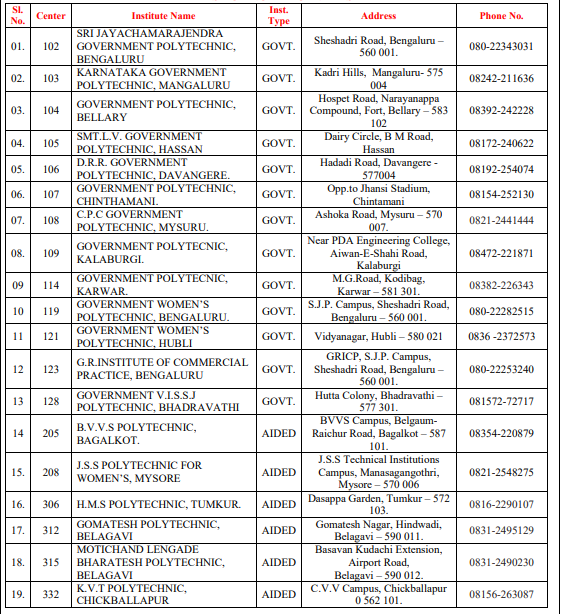 If you have any doubts related to the Karnataka Polytechnic Diploma Admission 2021 then please write to us in the comment box given below.