KEAM Paper I 2018 has just been concluded on 23rd April 2018 at 12:30 PM. The KEAM 2018 for B.Tech Paper II is going to be conducted tomorrow (24th April 2018) for Mathematics. Candidates have come out of the exam hall and have a lot to say about the pattern and experience of Taking the KEAM 2018. KEAM was conducted for the subjects Physics and Chemistry. The exam was conducted by CEE, Kerala across various exam centers in Kerala, Mumbai, Dubai and New Delhi. Those who qualify both Paper I and Paper II will be given admission in all the colleges affiliated
KEAM 2018 is a state level entrance exam which is conducted by the Commissioner of Entrance Examination (CEE), Kerala. All candidates who want admission in the engineering colleges that accept the KEAM 2018 scores are first required to take the KEAM examination.
DAY 1 – What do Students have to say about Paper I?
According to reports collected by NextInCareer, around 1 lakh candidates have taken the examination today for Paper I. There have been various reactions from candidates regarding the difficulty level of the exam. Please note that KEAM 2018 is held for only engineering course because admission to medicine, agriculture and forestry courses in Kerala will be now held through NEET scores conducted by the CBSE.
Answer key of Paper I (Unofficial) has just now been released! Go check the answer keys now.
Some students have said that the KEAM Paper I for 2018 was tougher altogether. Many students on social media have reportedly said that Physics was more difficult to crack than Chemistry.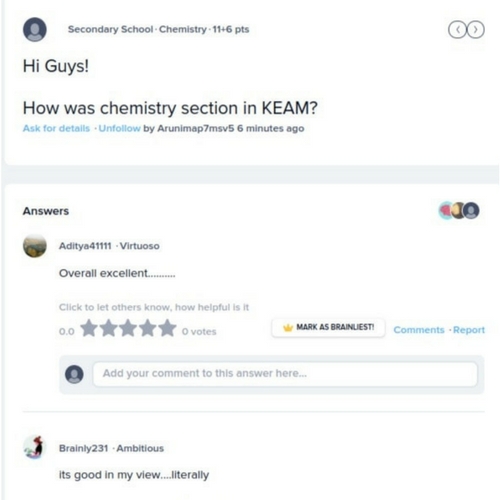 According to some candidates on Quora, Paper I was toughest in comparison to the KEAM exams held in past 3-4 years.

KEAM is one of the most reputed examinations conducted in the state of Kerala. There are some students who have complained of Today's KEAM 2018 paper being too time consuming. The paper could not be completed within the stipulated time.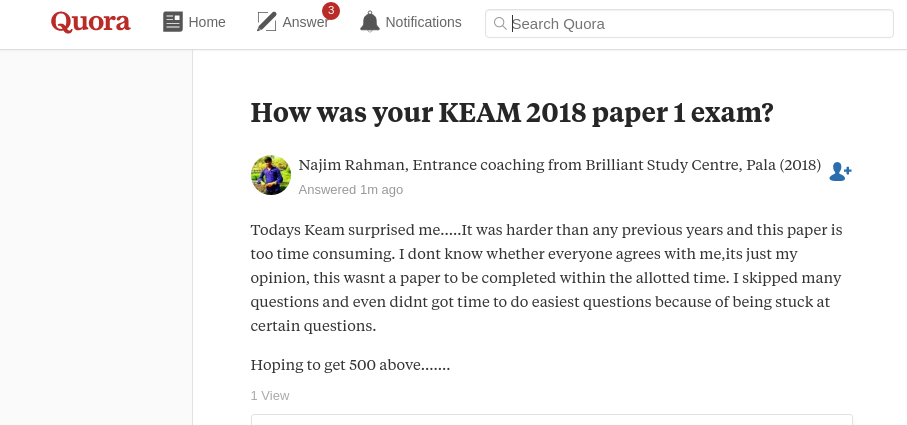 Last year candidates were able to answer more questions in Chemistry and were able to complete the examination KEAM on Time.
KEAM Paper 2 is going to be held tomorrow i.e. 24th April 2018. The exam is going to be held for Mathematics subject. Will the tables turn and will the paper turn out to be easy or difficult? Come back here tomorrow to know the reviews and reactions of candidates about KEAM 2018 Paper 2!