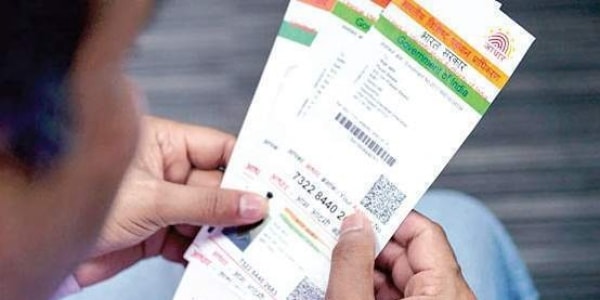 New Delhi: One among many verdicts, the supreme court on Wednesday (26th Sep 2018) declared that to appear in exams like National Eligibility cum Entrance Test (NEET), Central Board of Secondary Education (CBSE) & University Grants Commission (UGC), Aadhaar card is not compulsory. It comes as a big relief to the students on the announcement of this news.
Subscribe For Latest Updates
Subscribed Successfully.
Already Subscribed.
CBSE to conduct vocational & main subject courses exam early  – Read News Here
Admission Open 2023

Uttaranchal University Admission Open
Apply Now!!
The verdict was delivered by a five-judge bench comprising of Justices Ashok Bhushan, A M Khanwilkar, D Y Chandrachud, A K Sikri and Chief Justice of India Dipak Misra who led the bench. The hearing was on a bunch of petitions that challenged the constitutional validity of Aadhaar Card.
The five-judge bench headed by Chief Justice of India (CJI) Dipak Misra said that "education has taken us from thumb impression to signature, now technology has taken us from signature to thumb impression". While delivering the verdict Justice Sikri said that "CBSE, NEET, UGC making Aadhaar mandatory is bad and they cannot do so. For the enrollment of children, it would be essential to have the consent of parents." He also further added that "It is better to be unique than the best. Aadhaar has become the most talked about expression in the recent years," Justice AK Sikri said. The apex court added that Aadhaar cannot be made compulsory for school admissions as well.
Earlier this year, a Constitution Bench of the Supreme Court had stayed a CBSE notification that made Aadhaar or its enrolment proof mandatory to register or appear for the National Eligibility cum Entrance Test (NEET) 2018. The court had ordered the CBSE, the authority which conducts NEET earlier, to upload the apex court order on its website.
For enrollment of children in Aadhaar, it would be essential to have the consent of parents. While attaining the age of 18, they will be given of choice to exit, the court said. Though the apex court upheld the constitutional validity of Aadhaar, it also struck down some sections of the Act. Over one billion Indians have already signed up for Aadhaar.
National Eligibility cum Entrance Test (NEET), a national level MBBS entrance exam, will be held by NTA now. With this announcement of the supreme court, it is very much clear that to register for NEET, UGC and CBSE exam, Aadhaar card details will not be mandatory to enter whether you have one or not. The NEET 2019 online application form is scheduled to available from 1st to 30th November 2018.
Until last year, it was compulsory to enter Aadhaar Card data to fill application form of various national level entrance exams such as JEE Main, NEET & UGC NET. Students from some states like J&K, Assam, Meghalaya were given exceptions.