The CBSE (Central Board of Secondary Education) has released a notification regarding the changes in question paper for English core of class 12th. As a consequence of the feedback received from the various stakeholders and subsequent deliberation in the meetings of Committee of Courses of the Board and the subject experts the following changes have been made in Section-A-Reading of the Question Paper for English core, Class-XII for the session 2018-19.
Subscribe For Latest Updates
Subscribed Successfully.
Already Subscribed.
Updates


 CBSE has made changes in English Core class 12th exam pattern.


 CBSE has also released the new marking scheme for the same. Check the marking scheme below!
Admission Open 2023

Uttaranchal University Admission Open
Apply Now!!
The CBSE 12th Examination will be conducted after 15th February 2019 and candidates have already started preparing for the same. The full CBSE 2019 date sheet for class 10th and 12th will be released soon. Since the exam changes have already been announced, you can start preparing for English Core according to the new exam pattern.
CBSE New Exam Pattern
Check the New CBSE Changes made in English Core for Class 12th below:
The number of Passages has been reduced to two.
There will be 19 questions for 35 marks.
In Passage 1, there will be 5 MCQs for 1 mark each, 9 Very short answer type questions including 3 questions on vocabulary for 1 mark each and 3 Short answer type question for 2 marks each.
In Passage 2, there will be 2 Long answer type questions for 5 marks each.
You can check the existing exam pattern and the new exam pattern in the image given below: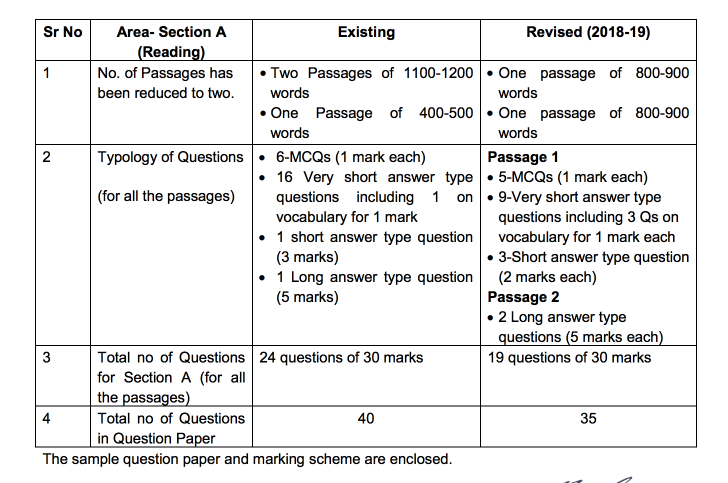 CBSE's New Marking Scheme of English Core
CBSE has also released the full marking scheme of English Core class 12th examination. The marking scheme is based on the new exam pattern. Check the marking scheme given here.
Every year lakhs of candidates all over the country take CBSE class 10th and class 12th examination. For the academic session of 2019-20, the exam for the vocational subjects will be held in the second half of February 2019. Candidates will be able to take the core subject examinations from March 2019 onwards.
The Central Board of Secondary Education is in charge of releasing the class 10th date sheet and results for all candidates. Class 10th and 12th examination are conducted annually in the month of March/April. To start off with the preparation of both these examination, every student must make sure to check the official website of CBSE which is cbse.nic.in.