HRD Minister Prakash Javadekar has just announced in a press conference that JEE Main, the screening test for IITs, will be conducted twice a year – in January and April. The exams will be conducted by NTA (National Testing Agency) which has been set up to set up to conduct "computer-based" exams to select students for top state-funded medical and engineering colleges instead of CBSE (Central Board of Secondary Education) that was earlier in charge of conducting the exams.
Check Eligibility For NTA JEE Main Exam
Have you checked the JEE Main 2019 Admit Card details? Make sure to download the admit card from 20th March onwards.
The Exam schedule for JEE Main, NEET, GPAT, UGC NET, CMAT have just been published! Check the link below to know the dates! As per the press release, the following is the tentative schedule:
Admission Open 2023

Uttaranchal University Admission Open
Apply Now!!
Javadekar has announced the NTA will conduct JEE Main, NEET, GPAT, UGC NET, CMAT twice a year. The exam will also be conducted in fully computer-based mode and no form of paper-based exam will take place.
National Testing Agency to conduct NEET, JEE, UGC NET and CMAT exams from now on, the exams will be computer-based. The exams to be conducted on multiple dates. NEET & JEE exams to be conducted 2 times in a year, JEE in Jan & Apr & NEET in Feb and May: Union Minister P Javadekar pic.twitter.com/gJEOYmkk1Z

— ANI (@ANI) July 7, 2018
Changes brought under NTA
A Student can take both the exams or just one. In case the candidate takes both exams, the score of the best one will count.
JEE Main will be conducted twice in January and April.
NEET will be held twice in the month of February and May.
The Exams will be held for a period of 4-5 days and students will be able to book a slot for the same.
The Exams will be held only in computer-based mode. There will be no pen and paper-based mode of exam.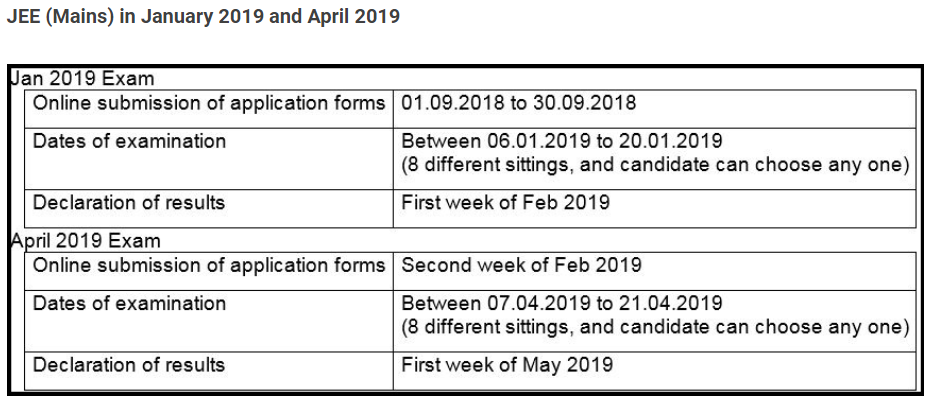 About NTA (National Testing Agency)
NTA was approved by the Union cabinet in November 2017. National Testing Agency is a set up as an Autonomous and self-sustained organization that is going to conduct national level tests mentioned above on a voluntary basis for the conduct of independent tests. The National Testing Agency is registered as a society under Indian Societies Registration Act, 1860. National Testing Agency has been established to develop and promote standard in educational and professional testing and assessment. CBSE has prepared a model for NTA which suggests the objectives, structures and functions of the agency.